Check out this healthy 4th of July Smoothie Recipe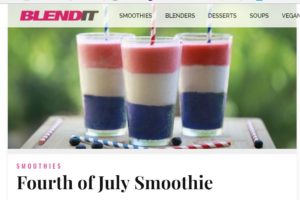 It's that time of year again…family events, summer fun, and outdoor grilling. It may be difficult sometimes to make healthy choices while enjoying cookouts with the family. Here's a healthy and fresh recipe to cool off during the summer heat.
Recipe:
Red layer: 1/2 cup strawberries from your local farmer's market, 3 oz strawberry yogurt or dairy-free alternative, almond milk, 1/4-1/2 cup cranberry juice, 1/4 cup pitted cherries from your local farmer's market, 5-8 ice cubes
White layer: 1 banana, 1/2 cup almond milk, 1-2 tbsp agave nectar, 6 oz vanilla yogurt, 5-8 ice cubes
Blue Layer: 1/2 cup blueberries, 1/2 banana, 1 tbsp agave, 1/4 cup coconut water and ice as needed 5-8 ice cubes
Blend the first layer. Pour into cup and freeze for 15 minutes. Then blend next layer and freeze for another 15 minutes and top off with last blended layer.
Enjoy…and have a wonderful 4th of July!
Click here for the original article with this recipe.